The healthcare industry has been significantly transformed by modern technologies. The current healthcare service delivery drastically differs from the one that was even 5 years ago. Cutting-edge technologies let medicine science and healthcare develop by leaps and bounds. What yesterday seemed to be sci-fi is the norm today. Telehealth, bioprinting, virtual surgery, healthcare wearables, robotic surgery are just a few advancements of healthcare. One of the most prominent changes noticed in the industry is related to the emergence of mobile healthcare apps. So let's have a brief glimpse at the subject and consider the impact of m-Health apps on the work of physicians.
The connection between information technology and medicine
Information technologies have had a huge impact on the most diverse fields and healthcare is no exception as well. Implementation of big data, cloud computing, VR, AR, machine learning, IoT, blockchain, and other technologies has brought plenty of benefits to healthcare facilities, medical staff, medical researchers, and patients, of course. Today, the most various healthcare systems and mobile applications are available on the market. Their active and smart use results in:
Improved quality of healthcare services;

Better medical training and education;

Accurate diagnosis and reduction in the number of medical errors;

Reduction of the healthcare costs;

Optimized medical record management;

Efficient health data acquisition, analysis, storage, and submission;

Better medical staff performance;

Smooth and productive administration and management;

Improved access to healthcare services.
So information technologies have made us reconsider the attitude to healthcare service delivery, treatment processes, medical education, medical studies and research, patient care, chronic disease management, healthcare practice running, and many others.
Reasons for the high demand for mobile app development in the healthcare industry
mHealth has deeply penetrated into the healthcare system. These days doctors cannot spend a day not using at least one mHealth app. There is a great variety of mHealth apps. Some of them are designed exclusively for healthcare facilities, others for doctors, patients, or the public in general. Indeed, mHealth app development is undergoing an unprecedented boom. It is not surprising at all. Many specialists commit the future of the healthcare industry to mHealth apps. Numerous practitioners and patients all over the world have already appreciated the multiple benefits of healthcare mobile apps and made active use of them. So why do mHealth apps are getting more and more popular? In essence, there are a lot of reasons for this. We offer to consider some of them.
Current market needs

Nowadays smartphones are widely used all over the world. People use their gadgets to address the most diverse issues. Taking into account the hectic pace of modern life, smartphone availability, advanced technologies, and the consequences of the Covid-10 pandemic, we can safely state that the time is ripe to use mobile devices and mHealth apps to settle healthcare issues as well.

Better healthcare service access

With the help of telemedicine apps, people can reach out to a board-certified doctor and get a valuable piece of advice with a single tap. Video calls and real-time chats are an efficient way to get a professional consultation without leaving the comfort of your house.

Convenience

mHealth apps are so sought after due to the ease with which the most various tasks can be performed. Using mobile healthcare apps people can find an appropriate doctor, book an appointment, arrange online consultation, check medicine availability in the pharmacies, make an online payment via the most preferable payment gateway, receive timely reminders about a due date, etc. Doctors, in their turn, can improve their efficiency, get access to helpful medical resources, track treatment efficiency and monitor patients' health state remotely, make online prescription refills, and others. All in all, mHealth apps provide a wide range of advantages to either doctors or patients.

Health data collection

mHealth apps are also used for the accurate collection and submission of health-related data. Further analysis of this data can improve diagnosing as well as can be used for epidemic prediction or scientific research that may change the healthcare system and treatment methods forever.

Tracking

mHealth apps are widely used to track and record the most varied data. There are healthcare apps that help track the vitals, symptoms, medication intake, dieting, weight loss, and others. It is extremely useful for accurate diagnosis, treatment monitoring, wellbeing improvement, and healthy habit development.

Efficient management of chronic diseases

There are certain chronic diseases, e.g. asthma, diabetes, or hypertension that must be thoroughly monitored on an ongoing basis. Specially developed mHealth apps can measure blood pressure, heart rate, glucose level, as well as collect data about other vitals in order to provide corresponding recommendations or warn about the necessity to reach out to a doctor or take certain measures.

Better communication

One more important advantage of mHealth apps is efficient communication between doctors and patients, healthcare centers and laboratories, and at last among medical specialists. It helps to improve healthcare services, establish trust-based relations between doctors and patients, and encourage global collaboration and knowledge sharing among medical staff.

More accurate diagnosis

Having various symptom checkers, remote patient monitoring apps, and online medical references at hand, doctors obtain accurate data and make a correct diagnosis, which in turn improves treatment outcomes and decreases the readmission rate.

Boosted productivity and efficiency

mHealth apps help to automate or significantly speed up the execution of different tasks especially those related to administration and management. Corresponding apps simplify supply tracking, inventory tracking, medical billing management, scheduling and booking, health data management, and many others. Proper use of different healthcare apps helps medical staff to take a heavy burden of administrative tasks off their back.

Better customer service and satisfaction

A convenient and user-friendly mobile healthcare app is a sure-fire way to improve customer services and satisfaction. There is no doubt that your patients will highly appreciate online appointment booking/cancelation, e-prescribing, embedded payment getaways, online consultations, reminders, notifications, and other valuable features that can significantly simplify their lives and make healthcare services more available.

Better medication adherence

Among a wide range of mHealth apps, there are those that monitor medication adherence. Using such apps, patients obtain medicine intake reminders, guiding tips, instructions, and educational content. These apps are useful for either patients or their family members and caregivers.
As you can see, mHealth has had a great impact on the healthcare industry and healthcare service delivery. It has brought plenty of opportunities and reconsidered the business model established in the healthcare industry before. However, we are sure that the main changes are still ahead.
Benefits of m-Health apps for physicians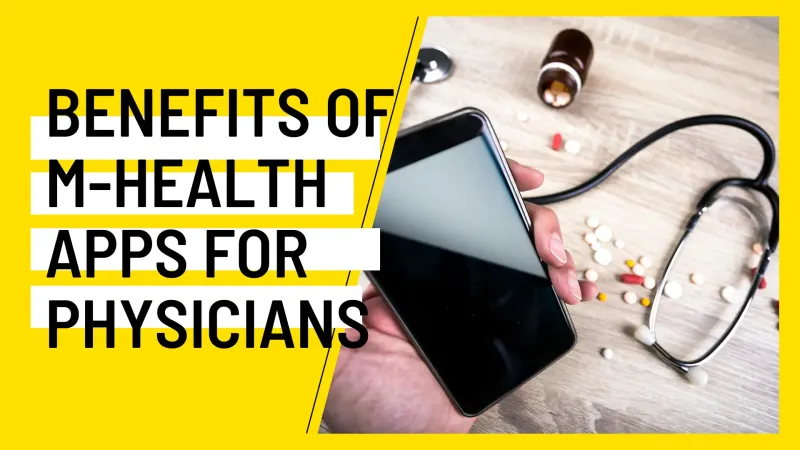 The work of medical staff is associated with an extremely high level of stress. It is not easy at all to be responsible for the lives of other people. Every lost second can cost somebody a life. Very often it is essential to make on-the-spot decisions and take necessary measures at the speed of light. Besides, apart from emergency cases and patient care, there is a wide scope of administrative tasks that must be settled in a timely manner as well.
The main mission of mHealth apps designed for doctors is to save time and improve their performance.
A hand-picked set of mHealth apps on the condition of their proper and smart use can provide doctors with plenty of benefits. The main among them are: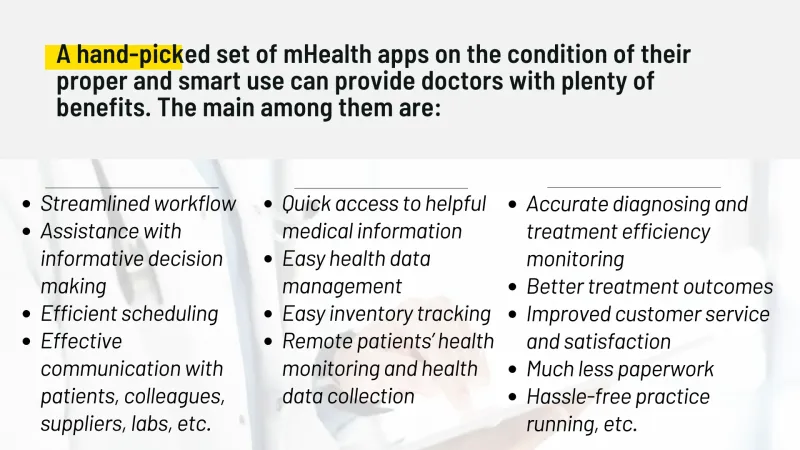 Assistance with informative decision making;

Effective communication with patients, colleagues, suppliers, labs, etc.;

Quick access to helpful medical information;

Easy health data management;

Remote patients' health monitoring and health data collection;

Accurate diagnosing and treatment efficiency monitoring;

Better treatment outcomes;

Improved customer service and satisfaction;

Hassle-free practice running, etc.
All in all, well-thought-out healthcare applications can immensely relieve the doctors' burden, decrease stress levels, improve patient care, and boost performance.
The main types of mobile medical apps for patients and doctors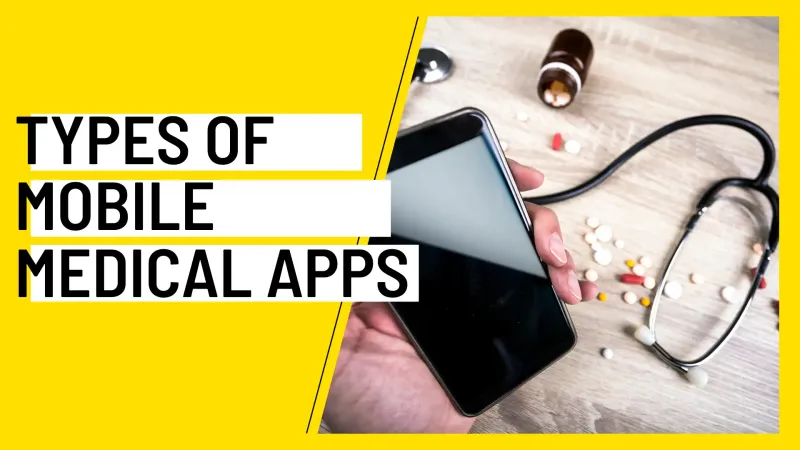 As we have already said, the mHealth app market is undergoing rapid development. New apps that handle the most diverse healthcare issues regularly hit the market offering more and more efficient and convenient ways of problem solving and treatment process optimization.
Some apps are designed to address exclusively patients' needs, others assist doctors with their daily routine. Besides, there are also those that target both audiences at once. So we offer you to take a look at the major types of mHealth apps for patients and doctors.
Healthcare applications for doctors: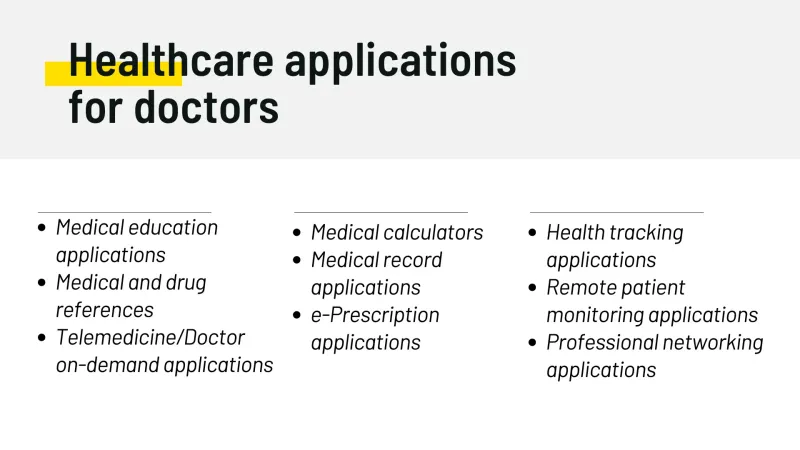 Medical education applications

Medical and drug references

Telemedicine/Doctor on-demand applications

Medical record applications

e-Prescription applications

Health tracking applications

Remote patient monitoring applications

Professional networking applications
Healthcare applications for patients: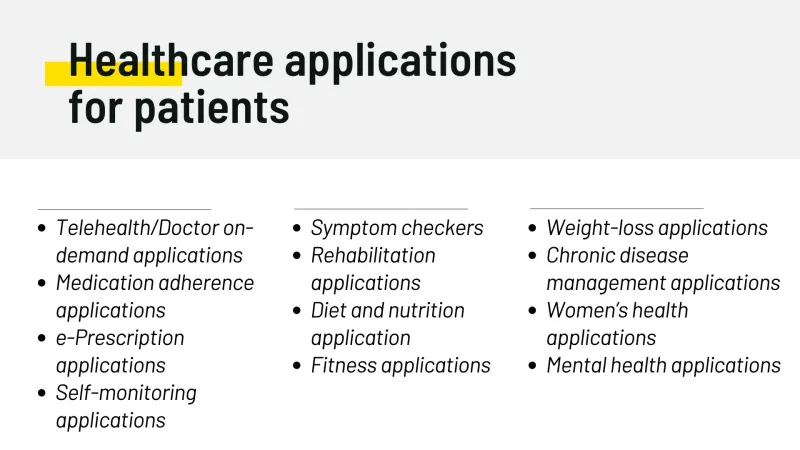 Telehealth/Doctor on-demand applications

Medication adherence applications

e-Prescription applications

Self-monitoring applications

Rehabilitation applications

Diet and nutrition application

Chronic disease management applications

Women's health applications

Mental health applications
Such a great variety of mobile healthcare applications proves that mHealth is indeed booming. In the nearest future, mHealth apps will not replace doctors but will definitely become our irreplaceable assistants.