At a certain point, IT companies may face an urgent need to expand a team. Rather often outstaffing is the best option in this case. Not only emerging businesses and SMEs opt for it but also large global corporations like Google and Facebook. So why shouldn't you give it a try as well? Have you got interested? Read on to get more details on the subject and understand whether outstaffing is indeed what your company needs.
Definition of outstaffing
First of all, let's start with a historical journey. It is believed that outstaffing originated in the USA in the sixties-seventies of the previous century. At first, outstaffing services were rendered by individual freelance entrepreneurs. Then, the first outstaffing companies began to appear. In the late nineties, a great number of laws regulating employment were enacted. Their main goal was to protect the rights of workers. This made personnel management rather complicated for entrepreneurs. Consequently, the demand for outstaffing has grown, and it is still gaining momentum globally. So what is outstaffing?
Outstaffing can be defined as a form of hiring remote teams or particular specialists while they are actually officially employed by an external company that holds responsibility for insurance, taxes, hardware, software, etc. Thus, you can augment your team with remote highly professional developers, QA engineers, DevOps engineers, and other IT specialists not bothering yourself with recruitment, training, legal, accounting, and other issues. Put it simply, outstaffing is some kind of leasing. However, in this case, not some property or equipment but specialists are rented.
Finally, we would like to draw your attention to the fact that outstaffing is often mistakenly considered to be interchangeable with outsourcing. In essence, these are two different business models. When it comes to outsourcing, a company entrusts certain work, usually non-core one, to an external service provider that gets totally responsible for the job execution and final results. On the other hand, outstaffing suggests cooperation with an external company that provides you with its specialists for a certain period of time during which they become full-fledged members of your team which means that you take advantage of specialists' skills and knowledge but manage a team and workflow on your own.
Benefits of IT Outstaffing Services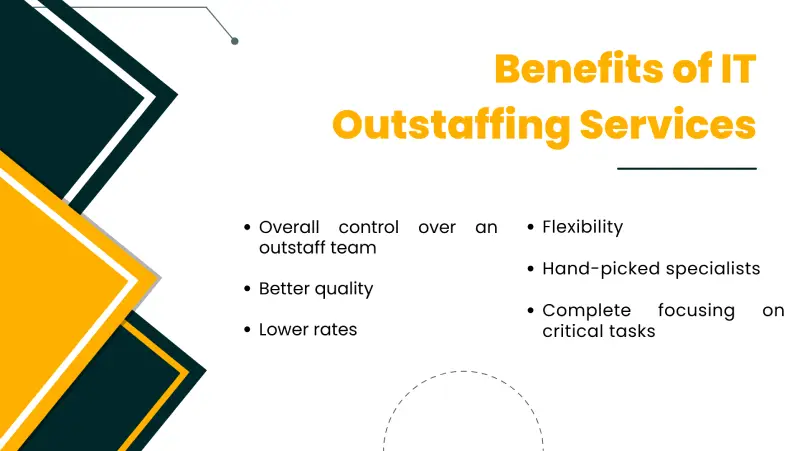 We have already said that outstaffing is a popular business model these days, especially in the IT industry. Why do so many companies opt for it? Partially we have already touched on the benefits that outstaffing brings. Still, we offer you to go into details.
Overall control over an outstaff team
An outstaffed team or specialists are at your total disposal. You or your team leads assign tasks, supervise their execution, and completely manage a working process. There are no delays and miscommunication that may happen whenever third parties are engaged. You can always keep your eyes on the ball and get in touch with any team member directly to discuss new features, updates, or any other urgent issues.
Compared to outsourcing, outstaffing always guarantees better quality. The thing is that an outsourced team can work on several projects simultaneously which can affect the quality and speed of work. Besides, you are just kept informed about the work progress of an outsourced team but do not manage the working process on your own. In this case, the end result depends on the proficiency and responsibility of your outsourcing partner.
When it comes to an outstaffed team, it works exclusively on your projects. Moreover, you or your representatives (PMs, team leads, etc.) have total control over everything and therefore take responsibility for the quality of the end product.
Let's face the truth, companies usually consider collaboration with remote specialists or teams just with the intention to cut down expenses. The thing is that the salary rates of IT specialists considerably vary across the globe. The rates mostly depend on the economic conditions and living standards of a particular country. Traditionally Eastern Europe and India are considered to be the best destinations for outsourcing and outstaffing. Still, of these two options, the latter is even more cost-efficient due to undertaking management and therefore being not charged for it.
As a rule, the development process of any software is nonlinear. Sometimes you quickly succeed and face a necessity to ramp up your team. Other times, you may also need to put certain tasks on the back burner. In these terms, outstaffing is very helpful, being able to quickly and painlessly respond to your need to ramp up or ramp down the team. An outstaffing partner can quickly provide you with more specialists, and otherwise, you can easily decline the services of outstaffed specialists whenever there is such a need.
Today the market is overloaded with different IT specialists. But the main difficulty is how to find among them those whose skills and background meet your requirements. The recruitment process may take a lot of time and effort. Outstaffing companies carefully and quickly review numerous profiles and filter out those candidates that are the most suitable for you. Besides, you can additionally interview the finalists to make sure that they are exactly what you need. Consequently, by implementing outstaffing, you can quickly build your dream team.
Complete focusing on critical tasks
Engaging an outstaffed team you can focus exclusively on development processes. All other things like taxes, benefits, insurance, training, legal issues, etc. are the responsibilities of your outstaffing partner.
As you see there are many reasons to take the outstaffing model seriously and introduce it in your company if it meets your needs and goals.
How does it work?
In which way can you collaborate with an outstaffing service company? Let's imagine that your project is prospering, and you want to add new functionality for which it is needed to engage additional full-stack developers. In order not to saddle yourself with an effortful and time-incentive recruiting process, you can contact a reliable IT outstaffing company. First of all, you should provide it with a job description and clear and comprehensive requirements for full-stack developers that are needed for the further development of your software product. After that, your outstaffing service vendor starts searching for the most suitable specialists. Resumes of candidates that suit your requirements are submitted to you, and you can interview them to make sure that they are the perfect match for you. The search is going on until you get the IT specialists that you need. As soon as full-stack developers with the required skill set and experience are found, they become members of your team and work exclusively on your projects while being officially employed in the company of your outstaffing partner. The latter also provides these outstaffed specialists with working space, hardware, software, etc. and takes care of wages, taxes, benefits, and many more. All you need to do is to pay your outstaffing partner according to the signed contract. The outstaffing rates consist of an IT specialist's net salary and a service fee.
How to Find the Best Outstaffing Company?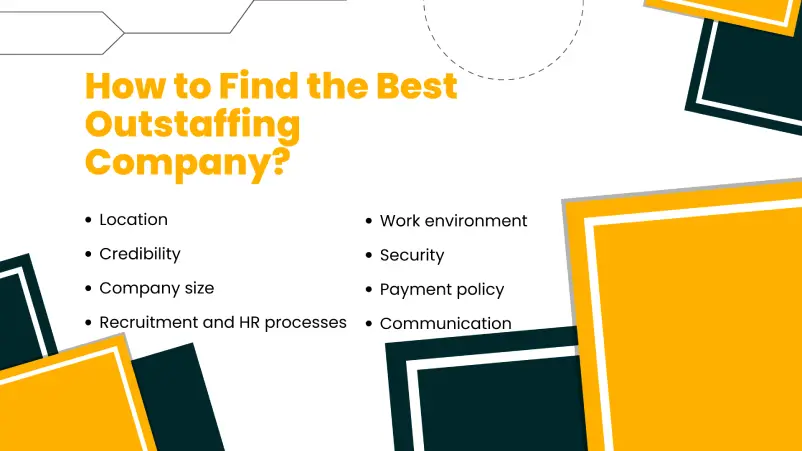 To take maximum advantage of outstaffing you should partner with a renowned and trustworthy outstaffing company. These days a great number of companies all over the world offer IT outstaffing services, and it is important to find the one that is reliable, experienced, and compliant with your requirements. To assist you with finding a proper outstaffing partner we have completed a list of aspects that you should take into account.
Having arrived at the decision to use outstaffing services, you should study the global market to understand in which countries outstaffing rates are the most reasonable while the proficiency level of IT specialists is really decent. Traditionally countries of Eastern Europe like Ukraine, Poland, Belarus, etc. are considered to have the best quality-price ratio. In addition, location is also important in terms of time zones. It is vital to partner with a company whose working hours at least partially overlap with yours.
We recommend making a check on a potential outstaffing partner to exclude doubts in terms of its reliability. In these terms, define how long it has been in the business, what awards it has, what companies are among its clients, what rates and feedback it has on the popular and trusted rating platforms, etc. All in all, make sure that the company has a stellar reputation on the market and an incredible track record.
When you collaborate with an IT outstaffing service provider, you expect that a team of experts will be able to get down to working on your project within a short time. Company size has a direct correlation with the speed of onboarding. As a rule, medium and large-size outstaffing companies can provide faster staffing.
Recruitment and HR processes
Ask your potential partner whether it uses its own talent tool or conducts custom recruitment, how many recruiters it has, what the average time of onboarding is, which retention strategies are used, etc. Answers to these questions can help you understand whether the company has indeed efficient recruiting and HR processes.
The work environment has a great influence on productivity. Therefore, check whether an outstaffing company can provide your outstaffed specialists with comfortable workstations and supply any need.
Whenever you partner with a third-party company, there is always a risk related to corporate information security. So it is worth asking questions about security measures that the company takes. Terms and conditions of NDA should also be of your primary interest.
Money matters are always important. That is why in advance ask about the exact cost of recruitment, payment deadlines, payment currency, factors causing cost change, etc.
The importance of communication is often underestimated. However, this is a facet that can immensely affect the success of a partnership. Command of English, corporate policy, cultural aspects, responsiveness are important components of sound business cooperation. Efficient communication also suggests understanding your business needs, asking objective questions, and paying attention to the smallest details. All in all, your outstaffing partner should be able to dive into your problems and provide the best solutions to them.
Conclusion
Outstaffing has proved itself as a hassle-free and cost-efficient way to enrich your team with real gems. Indeed, this business model has plenty of benefits but to make the most out of it, it is crucial to partner with a trusted outstaffing company. There is a number of aspects to be taken into account while you make a decision on an outsourcing company to partner with. We hope that the information presented in this article will help you to successfully implement outstaffing in your company.