To fulfill your brilliant business idea in the best possible way it is vital to build a dream team consisting of highly professional and seasoned IT specialists. Outstaffing services allow companies to engage diverse specialists with required skill sets and proficiency levels while they can be located in any corner of the world. Why should you opt for IT outstaffing? What benefits can your company reap from it? Stay tuned to get answers to these questions and many others.
What is IT Outstaffing?
Development companies all over the world are constantly searching for alternative ways to launch IT products faster, cheaper, and not compromising on quality. The outstaffing model has appeared as a new efficient way of engaging remote specialists. Numerous startups, middle and small enterprises, and large corporations make active use of it with the aim to enrich teams with highly professional IT specialists and deliver a software product of sky-high quality in time. So what is outstaffing?
In a nutshell, IT outstaffing can be defined as a type of remote hiring when different IT professionals with required skill sets, for instance, backend and frontend developers, manual and automation QA engineers, DevOps, software architects, and others are not employed but provided by an external company. Engaged in such a way remote IT specialists work exclusively on a project of a client company for the time frame stated in a contract.
IT outstaffing is an easy and budget-friendly way to build a dedicated team or ramp up an existing team with urgently needed human resources.
How Does the Outstaffing Model Work?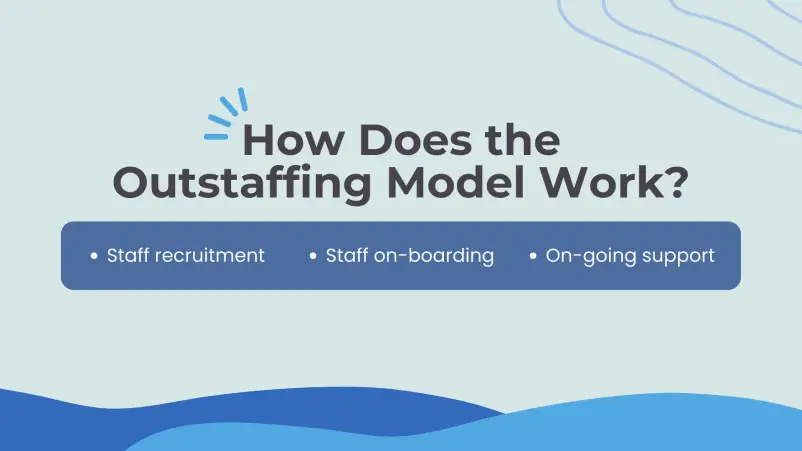 Now, as you have a general idea about outstaffing, we would like to dig deeper and consider in detail the way in which the outstaffing model works.
The outstaffing model suggests having remote specialists or even teams while not having to establish remote offices or divisions. A client company does not need to bother itself with recruitment, training, accounting, legal, and operational issues, as these are responsibilities of an IT outstaffing service provider. The client company can have complete control over an outstaff team, manage it in a way that it finds appropriate, implement its internal business culture while making active use of the infrastructure provided by the outstaffing partner
As soon as the client company has signed a contract, the vendor company arranges all legal, organizational, and recruiting processes. In essence, as a client company, you can get help with the following procedures:
Staff recruitment

An outstaffing partner searches for IT professionals with the required skills and knowledge, picks up the most suitable profiles, carefully interviews applicants, submits resumes of the best candidates to the client company, and makes a job offer to candidates in case of approval.

Staff on-boarding

An outstaffing partner provides an outstaff team with workspace, equipment, software, and tools needed for work on your project.

On-going support

Your outstaffing partner will stand by your side and assist you with all operational and some project-related issues.
To wrap it up, when the outstaffing model is implemented, a company in need collaborates with an outstaffing partner that, in its turn, finds appropriate specialists, employs them, and provides them with all software and hardware needed for efficient working on the client's project. The IT specialists are employed in the outstaffing company but are managed by the client company.
Why Do Businesses Prefer Outstaffing?
When you have a project in progress and need to enlarge your team in order to properly perform certain tasks or meet deadlines, you have a few options. First of all, you can hire new employees to ramp up your in-house team and fill in existing gaps. Secondly, there is an opportunity to entrust some non-core work to an external company, i.e. to outsource some services. Finally, you can hire IT specialists with certain knowledge and experience from another company to work on your project. In this case, we are talking about outstaffing.
So why do businesses opt for outstaffing? There are a number of reasons. A company can enlarge its team without any pain and hassle related to time-incentive recruiting, training, retention, taxing, and many more. Besides, when specialists provided by an outstaff partner get engaged, they are placed at your total disposal. Consequently, compared to outsourcing, outstaffing gives you total control over an outstaff team and a development process. Additionally, it is obvious that outstaffing is definitely more cost-efficient than the employment of new in-house specialists. Compared to outsourcing, outstaffing is also more profitable. The thing is that the outstaffing cost is made up of a vendor fee and an IT specialist's net salary. On the other hand, outsourcing suggests that an outsourcing company is completely responsible for proper job execution.
Therefore, the outsourcing cost also includes costs related to work management.
Advantages and Disadvantages of Outstaffing
Now, let's structurize the information that we have already discussed and clearly define the main advantages and disadvantages of outstaffing.
Advantages:

You can hire IT professionals that have the exact skills that you need to fill in gaps in your in-house team.

You can avoid the hassle related to recruiting, legal responsibilities, benefit payment, training, etc.

You can take advantage of total flexibility when it comes to ramping up and ramping down a team working on your project.

You can significantly cut down expenses related to labor costs, equipment procurement, renting, tax payment, etc.

You can save money as outstaffing is considered to be the most budget-friendly compared to other business models.

You can manage all team members directly and have the development process under your total control.

Disadvantages:

As any other model, outstaffing also has certain weaknesses. Let's have a look at them.

The inability of an outstaffing partner to find an IT specialist with a suitable skillset if you provide vague requirements;

Disloyalty towards a company as it is not an unofficial employer of IT specialists;

A heavier responsibility for a final result that comes with more control;

Possible communication problems related to the time difference, language barrier, cultural differences, etc.
When does IT outstaffing make sense?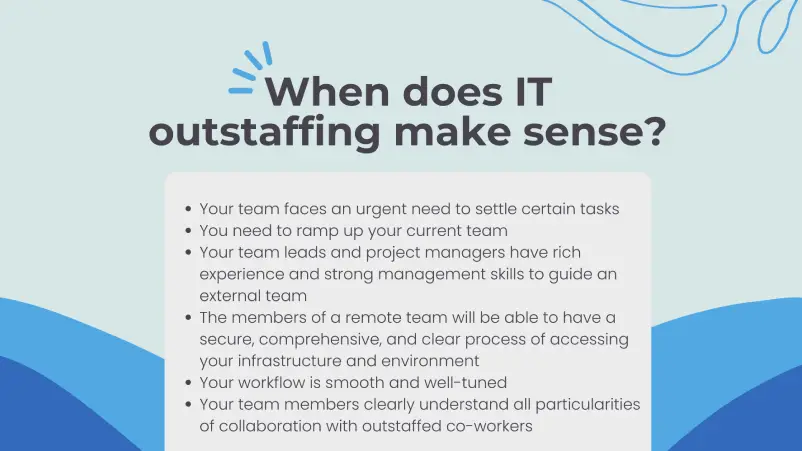 As you know, there are several business models that can be used when there is a need to engage new specialists, and it is high time to figure out when it makes sense to consider IT outstaffing services. The below-presented list of aspects will help you understand whether it is indeed reasonable to introduce the outstaffing model in your company.
Your team faces an urgent need to settle certain tasks that require particular experience and skills that none of your company's employees has;

You need to ramp up your current team as the work cope has been significantly enlarged;

Your team leads and project managers have rich experience and strong management skills to guide an external team, assign tasks among team members, and oversee the process of their execution;

The members of a remote team will be able to have a secure, comprehensive, and clear process of accessing your infrastructure and environment;

Your workflow is smooth and well-tuned, and you have all the scope of tools and solutions needed for efficient communication and task management.

Your team members clearly understand all particularities of collaboration with outstaffed co-workers.
On the condition that you have found that most of the above-listed points are true for your company, it can be reasonable to implement the outstaffing model.
All in all, we strongly recommend you choose a business model having the primary objectives, needs, and abilities of your company in mind. In this case, before arriving at a final decision, a piece of advice from experts will be indeed helpful.
Conclusion
Nowadays, for the most diverse companies, the outstaffing model can be indeed a hassle-free and budget-friendly way to hire specialists with the required proficiency level and domain expertise. Collaboration with a trustworthy outstaffing partner enables proper talent mapping that is of primary importance for efficient workflow establishment and human resources management. If you need to quickly engage IT specialists with needed skills and have experience in managing remote team members, give outstaffing a try.