The healthcare industry has been undergoing a real digital boom. The extremely rapid development of advanced technologies has opened so many opportunities for the industry that it just couldn't stand aside but to use them in order to improve treatment outcomes and patient care as well as streamline all the related processes and make healthcare help more available and affordable. Currently, e-health apps are receding into the background, giving way to m-health apps. Mobile healthcare applications of the most various types are available on the modern market. Among them are those that aim to assist with management issues of healthcare providers, medical education apps, telehealth and telemedicine apps, mental health apps, women's health apps, symptom tracking apps, wellness apps, and many others. So is there still some room for newcomers on the market? In this article, we are going to figure out in which way you can successfully hit the market of the m-health app market.
What is the reason for the high competition of mobile apps in the healthcare industry?
Nowadays the market is indeed overloaded with m-health apps. According to the data provided by Statista, the number of healthcare apps available in Google Play as of the first quarter of 2021 is 53054, compared to 37149 in the first quarter of 2019. So we can notice an increase of 34% and there is no doubt that it could have been even higher. Just a mandatory requirement to strictly adhere to the state security regulations restricts the growth of m-health apps to a certain extent.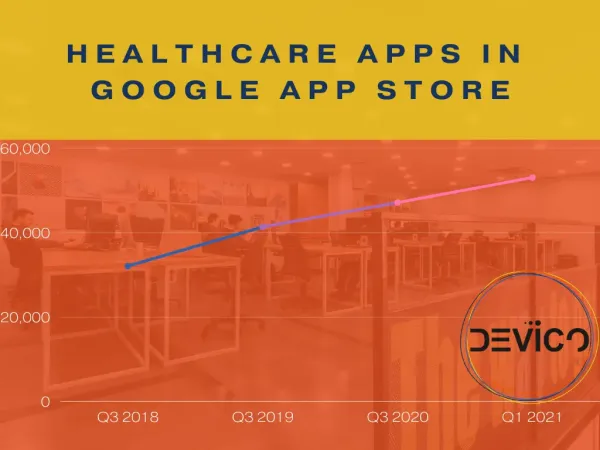 by Statista

Still, even now the m-health app market is pretty competitive. Apart from the traditional market players like hospitals, health insurance companies, pharma companies, and laboratories for which mobile healthcare applications are just a digital extension of their traditional healthcare business, there are also m-health app companies that are completely digital healthcare companies whose business is totally based on mobile healthcare solutions and services. Moreover, the market of m-health apps is so prospective that even companies that do not have any relation to healthcare such as market research companies, IT companies, and app development companies have broken into the market as well.

In spite of the competition, the m-health app market seems to be extremely attractive as more and more users and practitioners take advantage of mobile healthcare applications. The Covid-19 pandemic has also forced even diehard skeptics to use m-health apps and change their tune. Although high competition is one of the core features of the m-health app market, there is still an opportunity for having the edge over rivals if your healthcare app is of high quality or offers some unique and valuable options. The thing is that the healthcare industry is so multifaceted and complex that there is always a need to improve or optimize some processes. Everything you should do is to come up with a great idea and realize it in the best possible way.
Top 10 ideas for designing a competitive m-health app
The healthcare industry consists of plenty of medical specialties each of which has its own unique needs and challenges. Besides, apart from exclusively healthcare-related issues, medical specialists have to deal with certain administrative tasks. All these offer a lot of opportunities for m-health development. So you have a great opportunity to find a gap that you can fill with your application. To encourage you and help you come up with your own idea we offer you to get acquainted with the most promising types of m-health apps that you can consider as well.
On-Demand Doctor Applications

Let's imagine that you are on the drive and far away from the major population center. Unexpectedly, you feel unbearable pain in the stomach and there is no one within a 100 km circle. What would you do? Would you pick up speed to reach the nearest community with a hospital? Would you search for symptoms on Google? Or would you check your car first aid kit for painkillers?

There is a more suitable option - just use an on-demand doctor app with the help of which you are able to reach out to a certified doctor at any time of the day or night.

To develop an on-demand doctor app, you have to have a rich database of doctors being eager to partner with you and being able to provide video and/or chat consultation at an affordable cost

Appointment Booking Applications

Appointment booking apps significantly simplify the work of doctors and life of patients. Most healthcare facilities and medical practitioners create their own appointment booking app to get the most out of them.

Using applications like these, patients are able to find suitable doctors according to their specialty and experience, check their availability, arrange a consultation, fix a call, or book an appointment.

Women's Healthcare Applications

Women's Healthcare Applications are on the rise. More and more women are concerned about their health and lifestyle.

You can build a healthcare app exclusively for women to help them track their menstrual cycle, receive educational content, establish healthy lifestyle habits, and embrace internal harmony. Moreover, your app can serve as a digital clinic for women using which they can question professional dietitians, dermatologists, therapists, gynecologists, etc., and get video consultations.

Chronic Disease Management Applications

Chronic diseases like high blood pressure, diabetes, obesity, etc. require ongoing attention and regular medical checkups. Therefore, a chronic disease management app is an excellent idea for a startup. Such an application can allow users to monitor their symptoms and health conditions at regular intervals and submit corresponding metrics and data to their regular doctors.

To make your app more advanced, you can also integrate IoT which will provide doctors with an opportunity to be in touch with their patients and remotely monitor their current health state. This will help to improve patient care and reduce the number of errors.

Reminder Applications

Unfortunately, many people fail to achieve desired treatment results due to negligent medication adherence. After release, most patients hardly follow the prescriptions of their doctors.

Reminder applications are designed to increase the chances of adequate medication adherence by reminding users to perform particular tasks to achieve their health goals. For example, such an app can allow users to schedule reminders, monitor pill intake, set the dosage of the medicine, etc. Besides, such an application can also provide some additional educational content to encourage users to adhere to prescriptions.

Personal Medical Records Applications

This type of healthcare apps enables users to access their personal health records and share them with medical specialists before arranging an appointment. In such a way doctors are able to thoroughly study patients' treatment history to assign proper therapy and define the next actions.

Weight-Loss Applications

It is sad, but overweight is a common problem for many people around the world. Taking into account the fact that a healthy lifestyle is fairly popular today, many people have got concerned about their health and physical form and try to get into proper shape with the help of workouts or/and diets. So it is not surprising that weight loss applications are the most globally downloaded. This proves that weight loss and diet tracking applications have plenty of hidden opportunities.

A weight-loss application helps users to get back on full form by ongoing monitoring of their dietary intake. It keeps a record of the taken foot and gained calories. The most popular features of weight-loss applications are a barcode scanner, weight tracker, and diet calendar.

Mental Health Applications

Stress, anxiety, and depression are common things in today's society. These mental disorders make people's lives complicated and provoke suicidal thoughts. So it is a great idea to design an app that will help such people to struggle against mental illnesses.

For example, such applications can serve as mood trackers, mindfulness coaches, anxiety helpers, and mood-boosting friends.

Besides, as long as people with mental illnesses usually suffer from a lack of sleep, your app may also offer an opportunity to develop a special music therapy or set and fix a proper rest and sleep routine.

Medicine Price Comparison App

Prices for medicine can significantly vary from one chemist's shop to another. Therefore, searching for the best deal people have to visit several sites to make a purchasing decision. In such a way it makes sense to create a healthcare application enabling people to compare drug prices in different chemist's shops. Such an application will not only help save time but also provide the best possible result by comparing prices in a vast number of chemist's shops.

Medical education and training applications

Modern technologies open unbelievable opportunities for innovative medical training. AR coupled with VR and mixed reality has taken medical education and training processes to the next level. In these terms, virtual surgery deserves particular attention. Using healthcare apps empowered with AR/VR, headsets, and hand controllers, interns and surgeons can carry out the most diverse surgeries virtually having an exceptional realistic experience.
Things to consider when implementing an m-health app idea
Any app development is associated with a certain risk. Still, there is an opportunity to mitigate possible risks and hit the market with a winning healthcare application. To assist you with this, we have completed a list of things that are worth considering while implementing your m-health idea.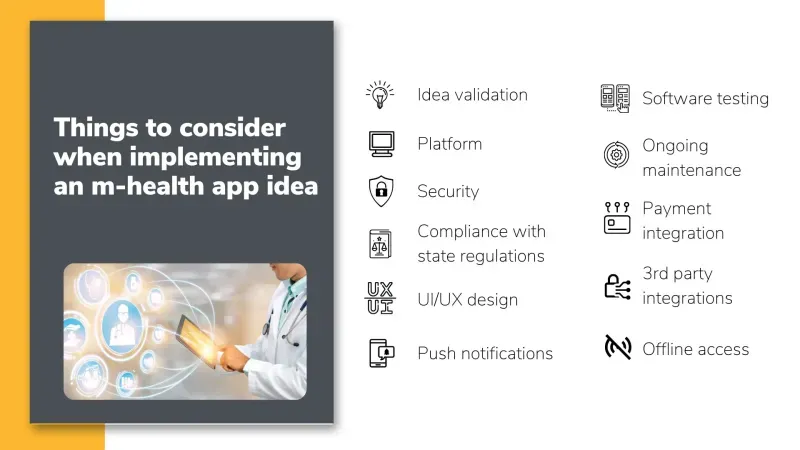 Idea validation

Instead of jumping into the development process at the heat of the moment, it is always recommended to test the waters and make sure that your idea indeed has potential and is worth the effort. Idea validation implies gathering evidence to be able to make informed decisions. So, first of all, conduct market research, study your target audience, and consult with subject matter experts. In such a way you will understand whether your app will be valuable and competitive or in which way to make it so.

Platform

Market research can provide you with many useful insights, one of them is which platform to choose. Depending on the preferences of your target audience you can develop only one native app for iOS or Android, a hybrid app, or two separate native apps for each platform. All in all, your decision on a platform will have not only business consequences but also define a tech stack to be used for your m-health app development.

Security

Personal health information is sensitive and many cybercriminals would like to obtain it. Therefore it is compulsory to take all the necessary measures to securely protect either corporate or patients' confidential data. Developers have to implement secure authorization and authentication mechanisms, apply the principle of least privilege, encrypt all sensitive data, and use TLS, which is a cryptographic protocol ensuring secure communication. Particular attention must be paid to API selection. The thing is that usually, APIs are those soft spots that are used by hackers to gain access to health data.

Compliance with state regulations

Depending on the market your app targets, you have to ensure compliance with the corresponding state regulations that define compulsory security standards, e.g. HIPAA and CCPA in the USA, GDPR in the EU, PIPEDA in Canada. So, it is advised to find out in advance which healthcare and security regulations your app should meet and get at least a general idea about their main requirements.

UI/UX design

Valuable features and secure data protection are of utmost importance of course, but you should not also underestimate UI/UX design. A user interface is the first thing that your users see and evaluate so it makes the first impression and you should ensure that this impression is pleasant. All in all, great UI/UX design is one of those aspects that make an app user-friendly and keep users engaged.

Push notifications

Whatever healthcare app you are going to develop, push notifications are a must. The case is that your users would like to be kept in the loop and customizable push notifications are a great way to let them stay up to date especially when it comes to health issues.

Offline access

For most healthcare apps it is important to provide anytime access to patient data with or without an Internet connection that can be unstable depending on location. So it is reasonable to provide an offline mode to make your m-health app more convenient and user-friendly.

3rd party integrations

For the vast majority of m-health apps, it is crucial to provide smooth integration with such platforms as Apple Health, Google Fit, or Samsung Health as well as healthcare facility's management tools and wearables.

Payment integration

Your app users will be grateful if you implement online payment due to which they will be able to pay quickly for products or services without having to stay in long queues. To gain high user satisfaction, provide as many payment options as possible including credit cards, debit cards, and eWallets like PayPal, Samsung Pay, Apple Pay, Google Pay, etc.

Software testing

When it comes to healthcare applications, users expect particularly high quality. That is why you should ensure comprehensive testing in order to check the app inside and out, detect as many defects as possible, mitigate possible risks, verify app usability and security, ensure HIPAA compliance, etc. So make sure that your QA team can execute all the required tests and have the necessary resources, experience, and domain expertise.

Ongoing maintenance

Unfortunately, many people tend to leave out of account the fact that app release is not the end of the work but a beginning. You should be ready to spend time and funds on further app updates and hotfixes. Ongoing app maintenance is essential to keep up with technology development, adapt to new market conditions, stay relevant and ahead of rivals. Your users' feedback should drive further development of your app as it defines users' needs and expectations. The QA process should be active as well. Therefore, hiring a mobile app development company, choose a reliable one with a long-term outlook.
How to choose the right healthcare mobile app development company?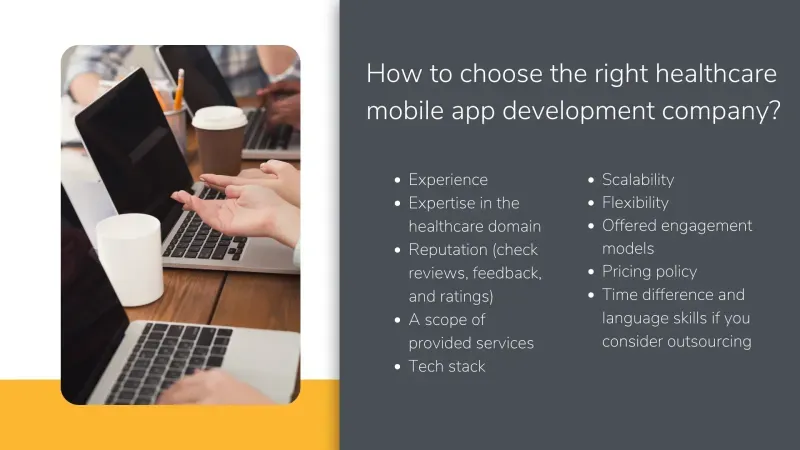 As m-health app development implies long-term partnership with a development company, so you should be scrupulous about its selection. Eventually, your app success mostly depends on whether a development team will manage to fulfill your idea in the best possible way. Therefore it is important to entrust development of your m-health app to real experts. How to choose the right healthcare mobile app development company? Below you can see the main aspects that you should consider choosing a development partner:
Expertise in the healthcare domain

Reputation (check reviews, feedback, and ratings)

A scope of provided services

Offered engagement models

Time difference and language skills if you consider outsourcing