Change is all around us. The healthcare industry has also recently undergone significant modification. Modern technologies have opened indeed remarkable opportunities. One of the main changes is the transfer of healthcare service delivery to digital channels. In these terms, mHealth draws particular attention. More and more practitioners and patients discover the benefits of mHealth, and the Covid-19 pandemic has been a trigger for the development and spreading of mHealth apps. mHealth has taken healthcare service delivery to the next level. So, we offer to consider in detail in which way mobile healthcare applications have affected the industry.
What is a mHealth app?
mHealth apps can be defined as software providing healthcare service delivery via mobile devices like smartphones, tablets, personal digital assistants (PDAs), and wearables.
How the advent of mobile healthcare apps has impacted the industry?
Some people accept the advent of mHealth apps with enthusiasm while others take it with a grain of salt. Nevertheless, mHealth is gaining momentum, and with such active use of mHealth apps, the healthcare industry is undergoing substantial modification. So let's find out what has been changed.
Faster and easier medical service access

Telemedicine was on the radar even before the Covid-19 outbreak. But after it has been so actively used in the past year, it's here to stay

Telemedicine applications significantly simplify people's lives enabling them to receive healthcare services 24/7 without having to leave the comfort of their houses. The thing is that mHealth apps with telemedicine features can substitute personal visits with online video consultations and chats when it comes to some minor health issues. Besides, such applications are a blessing for rural and distant areas as their inhabitants, at last, can access professional healthcare services.

Easier management of chronic diseases

Some chronic diseases affect people's diet, daily regimen, living habits, etc., and often require strict and ongoing health management that implies tracking of different health parameters.

For proper supervision of such diseases and health conditions, mobile healthcare applications can be a viable option as they assist with medication adherence, track the symptoms and health parameters, alert in case active medical supervision or healthcare intervention is required.

So, it is impossible to overestimate the benefit and influence of mHealth apps on the management and treatment of chronic diseases.

Efficient and accurate data collection

mHealth apps coupled with IoTs enable accurate, easy, and effective collection of patients' health data, including symptoms, health parameters, medical history, etc. It helps healthcare providers to prescribe proper medication, make accurate research, and offer better healthcare services.

Better communication

mHealth applications have also considerably improved communication either between doctors and patients or among medical specialists. Due to such apps patients can reach out to a doctor on-demand at any time of the day and night via video calls or chats. Besides, mHealth apps enable appointment booking or cancellation, secure health data submission, automatic reminders as for upcoming appointments, or informing about doctor's availability. Apart from that, certain mHealth apps connect medical specialists to other medical specialists, healthcare facilities, ministries of health, or resources of medical information. As a consequence, improved communication leads to efficient knowledge transfer amongst medical specialists and better customer service.

Restriction of disease spread

As long as using mHealth apps people can get medical consultation staying at home, it makes it easier to restrict disease spread and prevent epidemics. In essence, such mHealth apps have made a remarkable contribution to the struggle against the Covid-19 pandemic.

In addition, with the help of data collected by mHealth apps and big data analytics, it is possible to predict possible disease outbreaks and take preventive measures.

Improved diagnostic and treatment outcomes

Using mHealth apps doctors can take advantage of remote monitoring and accurate health data collection which improve diagnosing and decision making.

With all the needed and accurate data in place, chances of correct diagnosing increase while the likelihood of errors lessens.

Besides using mHealth apps doctors can monitor whether prescribed medication is effective and tweak it if needed. All these things result in better treatment outcomes and a decrease in the readmission rate.

Education and awareness

Patient education is one more advantage of mHealth apps. With their help, it is easy to educate patients on different conditions. Corresponding content can be sent to prepare them for a particular procedure or surgery, inform them about preventive measures against a spreading disease, or remind them about the necessity to strictly adhere to medication.

Reduction of healthcare costs

Telemedicine apps provide people with an opportunity to save a lot of money as they can get a consultation from the best-of-breed doctor from any corner of the world without spending money on travel expenses.

People suffering from chronic diseases can significantly reduce the number of hospital visits in case they use mHealth apps to take a proactive approach to the management of their condition. And the fewer hospital visits, the more money can be saved.

Besides, as long as mHealth apps help to decrease the readmission rate, it also provides an opportunity to cut down costs.

Improved patient satisfaction

mHealth apps provide better communication with doctors, accurate diagnosing, efficient medication, embedded payment options, an opportunity to save time and money and there is no doubt that all these things encourage the increase of patient satisfaction.

Improved efficiency

The emergence of mHealth apps enabled doctors and healthcare providers to improve their work efficiency. mHealth apps automate many processes and lessen paperwork, as a result, healthcare specialists can focus on patient care.
So, as you may have already understood, mHealth apps have become ingrained in our everyday lives, and either practitioners or patients have highly appreciated their helpfulness, convenience, and speed. So we can surely assume that mHealth has affected the healthcare industry in a positive way and there is no doubt that the most remarkable changes are yet to come.
The role of m-health apps in today's healthcare system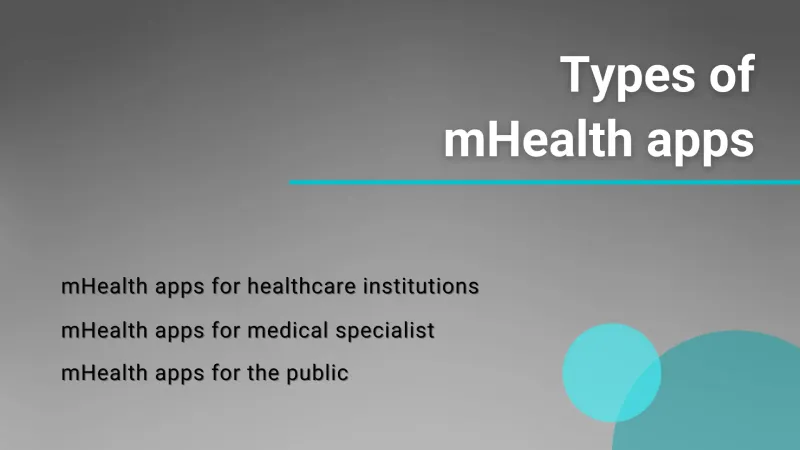 To let you understand the role of mHealth apps in the healthcare industry, we offer you to have a look at the types of mHealth apps. In general, three main categories can be differentiated and some types of mHealth apps can refer to several categories.
mHealth apps for healthcare institutions:
Practice Management Applications

EHR Applications (EPR and EMR)

Inventory Management Applications

Medical Billing Applications
mHealth apps for medical specialist:
Medical Education Applications

Virtual Surgery Applications

Telemedicine Applications

Medical imaging Applications

E-prescribing Applications

Appointment booking Applications

Remote Monitoring Applications

Chronic Disease Management Applications

Professional Networking Applications
mHealth apps for the public:
Telemedicine Applications

E-prescribing Applications

Appointment booking Applications

Medication Adherence Applications

Chronic disease Management Applications

Self-Monitoring Applications

Women's Health Applications

Healthy Lifestyle and Wellness Applications (weight-loss apps, diet tracking apps, quit smoking apps, sleep trackers, etc.)

Mental Health Applications
As you have seen for yourself, there is a great variety of mHealth apps which proves that such applications have come into common use and play an essential role in the delivery of high-quality healthcare services.
Why do clinics and medical centers need to develop a mHealth app?
Has a thought about your own mHealth app development already come to your mind? Are you still being torn between possible risks and benefits? It is time to make a final decision. And if you are farseeing, your decision will be positive.
These days a vast majority of people prefer to settle the most various issues using their smartphones. Healthcare services are no exception as well, especially now in our pandemic realities. In essence, there is a pleiad of reasons to invest in the development of your own mHealth app, So let's have a look at the most crucial ones:
Market demand

As we have already mentioned, today's people tend to solve their problems using their gadgets and consequently, they expect to receive healthcare services online as well. When it comes to some minor issues, people are not ready to waste their time on visits to a hospital and staying in a queue. Practitioners, in their turn, have also appreciated the convenience and usefulness of mHealth apps and are ready to make active use of them and associate further industry development with mHealth development. So, with your own mHealth app you can keep up with modern trends, address particular challenges of your medical center, and provide your services in a way that is most suitable and comfortable for both your medical specialists and patients.

Competitive edge in the market

An advanced and user-friendly mHealth app is a great way to obtain a competitive edge in the market. Since there is a great number of clinics and medical centers, it is important not to lag behind but to be innovative and keep up with the modern technologies and market demands. Your mHealth app can help you retain your customers and attract new ones. Online booking, online consultations, embedded payment options, access to medical records, e-prescription, and a few other useful features will delight your patients and make them think about your medical center as patient-focused.

Reputation

An own mHealth app is a mark of high status which is a very important aspect for the establishment of an excellent reputation of your clinic. The mHealth app is a great way to demonstrate industry leadership, progressiveness, openness to innovations, and high standards of patient care.

Improved performance

Depending on the type of your mHealth app and implemented features, your app can streamline some or other processes and significantly boost staff performance in general. Easy data management, automated processes, efficient time and resources management, supply tracking, simple medical billing, reduced paperwork all these things that can be provided by a mHealth app take a burden off your employees' back, save their time and let them focus on patient care.

Better customer satisfaction

It is pretty obvious that if patients have an opportunity to address all their problems quickly and easily using your mHealth app, the rate of customer satisfaction will increase. Today mHealth app is just an essential part of excellent customer service and if you take care of your reputation and your patients' satisfaction, mHealth app development is a must that will enable you to take your healthcare business to the next level.

Reduced risk of infection

The Covid-19 pandemic has made us reconsider the approach to healthcare services delivery in order to do this in a secure way for both patients and medical staff. Mobile applications with an embedded telemedicine feature have become a blessing. Nowadays video calls are considered to be a great alternative to hospital visits. This attitude is an efficient way to protect medical specialists from infections and restrict disease spreading. So if you thinking about your mHealth app development, the telemedicine feature is a must.
Which mHealth apps are the most popular among customers?
As you may guess, there are three types of mHealth app users - healthcare institutions, doctors, and patients.
When it comes to healthcare institutions, the most popular apps are those related to practice management and data management.
As for doctors, they make active use of medical reference apps, professional networking apps, medical diagnosis apps, telemedicine apps, e-prescription apps, etc.
Speaking about the general public, the absolute leader is workout apps and diet tracking apps. Apart from them, patients also widely use mental health apps, women health apps, symptom trackers, chronic disease management apps, telemedicine apps, etc.
Trends of the mHealth app market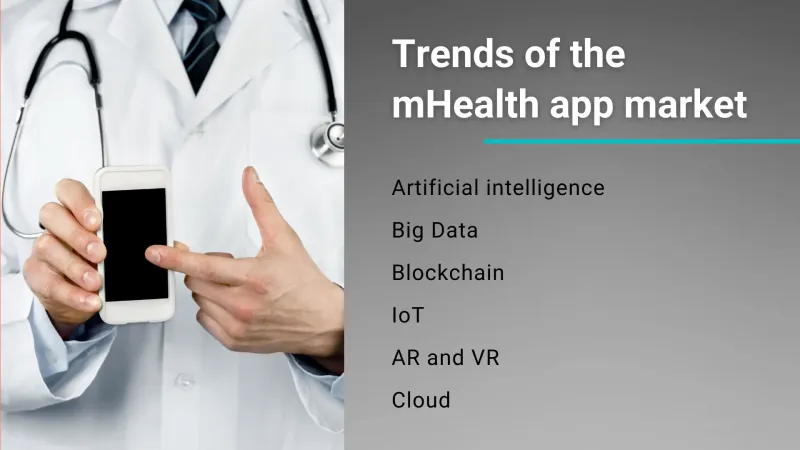 The onrush of technology determines the trends of the mHealth app market. Some of them you can see below:
Artificial intelligence

It is not surprising that AI has been actively used in mHealth apps especially when it comes to self-examination and remote monitoring apps that cut down on the costs of hospital visits.

Big Data

As a rule, healthcare applications collect and store vast amounts of data that should be thoroughly analyzed.

Big Data is a great way to deal with healthcare data management, decrease the number of errors in medication, boost preventive care, effectively manage resources, predict diagnoses and epidemics. All in all implementation of Big Data in healthcare apps may help to reveal a lot of valuable insights.

Blockchain

One of the burning problems of the healthcare industry is efficient healthcare data protection. In recent years an impressive number of patients have experienced data breaches.

Blockchain is a technology that can provide healthcare data safe and secure protection due to its incorruptibility, decentralization, immutability, and transparency.

IoT

The Internet of Things holds great potential for the healthcare industry. The number of healthcare institutions implementing IoT in their facilities is rapidly growing.

IoT has a great impact on the evolvement of medical devices. Coupled with IoT, mobile healthcare applications not only record data but also perform particular functions according to commands or recognized situations.

Augmented Reality (AR) and Virtual Reality (VR)

The use of AR and VR in mHealth apps is gaining momentum especially in terms of virtual training for surgeons. The use of AR/VR-powered mHealth apps is expected to help medical specialists conduct better surgical procedures.

Cloud

Cloud technology made itself well known in the most diverse fields ages ago, but the healthcare industry has relatively recently revealed its possible benefits. Thus, as the healthcare industry develops, cloud technology is considered as having great potential. For example, backed up by cloud technology mHealth mobile apps enable healthcare providers and their staff to have access to important data while being anywhere and at any time.
Conclusion
As people are getting more health-conscious and technologies are developing at lightning speed, it becomes clear that mHealth apps are not the future of the healthcare industry but its present. Today there is a great variety of mobile healthcare apps that help either doctors or patients to solve the most varied problems fast and easily. People all over the world have already understood the usefulness and convenience of such apps. mHealth apps optimize the workflow of healthcare institutions and medical practices as well as make healthcare services more accessible and affordable for patients. So if you wish to open new horizons for your healthcare business and delight your patients do not postpone your mHealth app development.