Technology makes the world go round. Thanks to advancements in technology we have made our daily life more comfortable and got numerous opportunities to make work collaboration extremely easy and efficient. For example, today multinational teams are the norm for most IT companies. Remote co-workers are really full-fledged team members. In these terms, outstaffing enables companies not only to engage gems from different corners of the world but to avoid numerous hassles and save some money. Would you like to find out more about the IT outstaffing model? Read on! We have a lot to share with you.
What is the IT Outstaffing Model?
Let's start with the outstaffing definition. So, outstaffing is an efficient method of hiring remote staff that suggests collaboration with a third-party company providing you with IT specialists that you currently need. Being employed in the outstaffing company the specialists are placed at a client company's disposal for a period of time stated in a contract.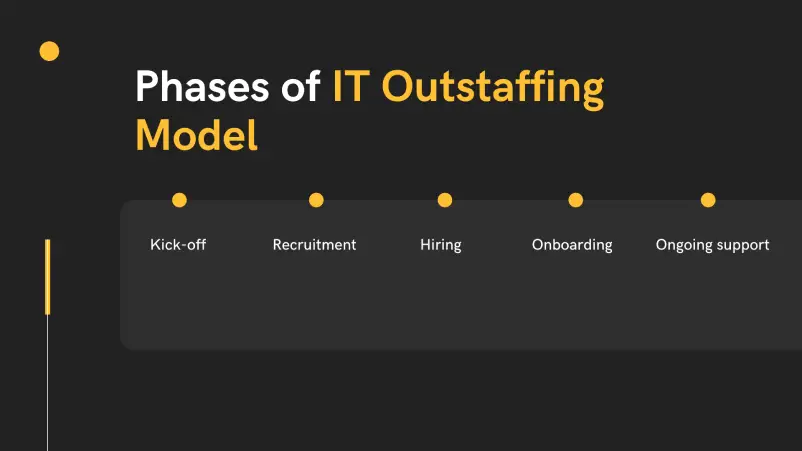 If you have made a decision to implement the IT outstaffing model, first of all, you need to find a trustworthy IT outstaffing service provider and contact it. Further collaboration usually implies the following phases:
At the opening phase, a client company tells about its business and explains its basic needs while a vendor company decides which of them it can cover. For example, the client may need to augment its team with three senior JS full-stack developers and one senior automation QA engineer. To let the outstaffing company find the most appropriate specialists, the client submits job descriptions and comprehensive requirements for candidates (e.g. tech stack, domain expertise, years of experience, the most important soft skills, etc.).
The outstaffing company is completely responsible for the recruitment process. Specialists with the required experience and proficiency level can be provided from the vendor's own talent pool or its recruiters can get down to custom recruitment, searching for specialists on the job market and arranging interviews with those who seem to be the most suitable. Whenever candidates having relevant experience and meeting corporate culture are found, their CVs with comments are submitted to the client who can additionally interview specialists before arriving at a final decision.
As soon as the client provides positive feedback on the candidates and approves them, the outstaffing company makes them a job offer. In such a way, the outstaffing company actually deals with payroll, benefits, insurance, taxes, etc., whereas specialists work exclusively on a client's project.
The next step is onboarding. A facility manager of the outstaffing company prepares the hardware and software that new specialists need to efficiently perform assigned tasks. On their first day, newcomers go through the onboarding process, get acquainted with a team, gain access to the systems and tools, and become familiar with a project. Now, they are under the management of the client.
During the whole collaboration process, the outstaffing partner stays in touch and provides support. Calls are arranged with a certain frequency to share feedback, access specialists' performance, and discuss some ongoing operational issues.
Pros of IT Outstaffing Services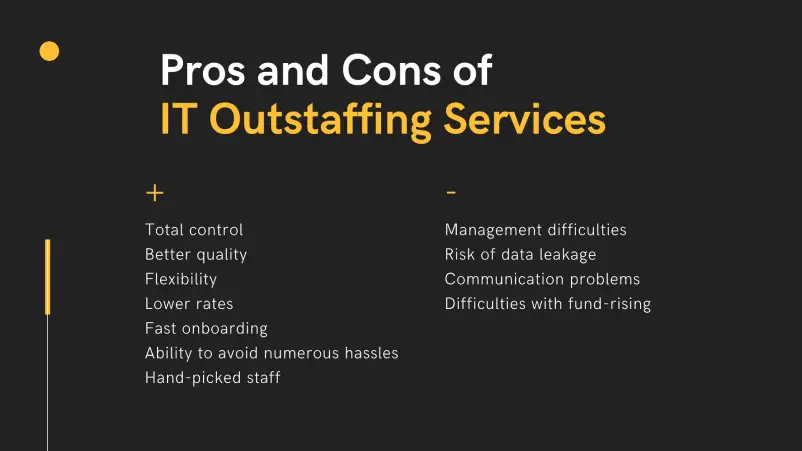 Nowadays, IT outstaffing is a widely used business model, and there are many reasons for this. There are many benefits that you can reap from outstaffing. Let's have a look at some of them.
One of the primary advantages of outstaffing is that outstaffed specialists become full-fledged members of a client's team. It means that the client company actually manages all working processes. Its team leads or project managers assign tasks to outstaffed team members and supervise their execution. The ability to manage a workflow can be crucial for many companies that prefer to have everything under their complete control.
Compared to outsourced specialists, outstaffed ones work exclusively on a client's project. Therefore, they totally concentrate on it, and this contributes to the quality and speed of their work. Besides, the fact that the client company supervises their work also fuels specialists' performance and helps to keep them on the right track.
As software is developed the scope of work can vary. Consequently, from time to time you may face a necessity to ramp up or ramp down your team. With in-house specialists, it is not so easy, while outstaffing provides you with great flexibility in these terms. You can ask your outstaffing partner to provide additional specialists, whenever the workload is high, or you may inform an outstaffing company that there is no more need for certain specialists.
Outstaffing enables companies to engage brilliant IT specialists located in different corners of the world. As long as in certain countries an average salary rate can be much lower than in yours, you can save some money. Moreover, compared to outsourcing rates, outstaffing rates exclude management costs.
Staff recruitment can be an effortful and time-consuming process. But outstaffing companies are really good at this. A decent outstaffing company can quickly provide you with IT specialists that perfectly match your requirements. Either they can be picked up from its own rich talent pool or custom recruitment can be done.
Ability to avoid numerous hassles
Cooperation with an outstaffing company lets you not bother yourself with numerous issues related to tax payment, insurance, remuneration, perks, vacation pay, staff training, and many more. All this stuff is within the responsibility of your outstaffing company. Your only obligation is to make payment according to an outstaffing contract.
The main mission of an outstaffing company is to supply your current staff needs. Therefore, its recruitment team does its best to provide you with specialists that perfectly match your requirements. The searching process goes on until specialists with the required qualifications and experience are found.
Cons of Hiring an Outstaff Team
While outstaffing can bring multiple benefits to you, there are also certain challenges related to hiring an outstaff team.
An ability to manage outstaffed specialists can be considered as both the advantage and disadvantage of this business model. More control comes with more responsibility. Management of a remote team may be rather challenging especially if your PMs and team leads have a lack of such experience. Outstaffing suggests that you are fully responsible for the end product, and you as well as your management staff must be ready for this.
Having outstaffed specialists in a team, you discuss with them some ideas sharing confidential information. So, to protect yourself you should deal with only trusted outstaffing companies, carefully study all the terms and conditions of a non-disclosure agreement, and engage experienced lawyers if needed.
There is also a certain risk in terms of communication. Some cultural differences, a time difference, as well as a language barrier may lead to misunderstanding and poor communication.
Difficulties with fund-rising
Frankly speaking, outstaffing is hardly sufficient for companies striving to attract investors. The lack of your own highly professional staff can be a deal-breaker, as investors usually pay particular attention to a team working on a project. Partnership with an outstaffing company may be perceived as a warning that a company lacks the expertise essential for the successful realization of your brilliant idea.
Outstaffing vs. outsourcing
Speaking about outstaffing, it is just impossible not to discuss how it differs from outsourcing. Many people mistakenly interchange them. In fact, these are two different models of cooperation. What makes them similar is the fact that both of them suggest the engagement of remote and cheaper staff.
The key difference is that outsourcing implies entrusting your project or some scope of work to an external company whereas outstaffing implies hiring certain specialists from another company to augment your team. An outsourced team works autonomously, i.e. you do not need to manage it. As a rule, you just keep informed about the work progress. As for an outstaffed team, you are responsible for its management.
The difference in rates also deserves attention. In general, outstaffing is about 20-30% cheaper because in this case you are not charged for daily team management.
As you see, both models have pros and cons. Which one to choose depends on your needs, goals, and capabilities.
Conclusion
Today it is a common practice to look for IT experts outside own organization and even country. Lower rates are the primary reason. In these terms, outstaffing is considered to be an efficient business model enabling IT companies to augment their teams with real professionals while saving some money and forgetting about issues related to usual staff employment.
Writing this article we had an aim to demonstrate readers the main peculiarities of the IT outstaffing model including the way it works, its advantages and disadvantages, comparison with outsourcing, etc. With all this information in mind, you can come to the right decision whether IT outstaffing services are indeed what you need.