We live in the era of high technologies and people have got used to performing the most various tasks both routine and business online with the help of their mobile devices. Mobile technologies and mobile applications have become the norm. People make active use of the most varied mobile apps that simplify and regulate diverse aspects of their lives and healthcare is not an exception as well. Healthcare apps are an innovative way to provide people with efficient healthcare services out of traditional healthcare settings. The use of healthcare apps lets boost the productivity of healthcare specialists and improves the results of patient treatment. As a result development of healthcare apps are on the rise. If you are one of those who consider their own healthcare app development, it is worth having a closer look at the subject.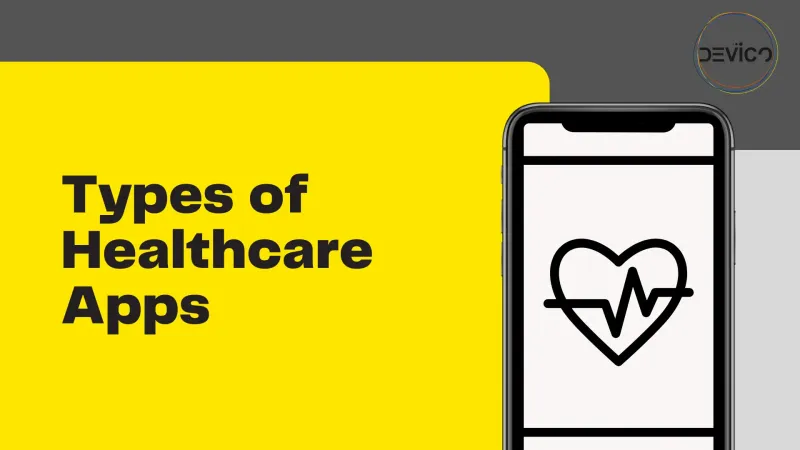 What Makes Healthcare Apps So Popular?
Healthcare applications, and m-Health apps, in particular, have become a blessing for both healthcare specialists and patients. The true value, helpfulness, and importance of such application have become especially obvious recently as we all face the necessity to resist the Covid-19 pandemic. m-Health apps simplify the work of the first-line medical specialists and make patients' lives easier as there is no necessity to visit hospitals in case of having some non-critical symptoms - professional and efficient healthcare help can be received at any time of the day or night in the blink of an eye.
In essence, the list of healthcare app advantages is virtually endless, still, let's consider the most important items of the list:
Cost-efficiency

Reduction of healthcare expenses is one of the main merits of healthcare apps. Extremely high medical bills have always been a headache for people as hospitals usually charge a fee at their will.

However, today some of the tasks can be done through apps, easing the burden off patients' pockets. Telemedicine has not only opened new opportunities for healthcare service delivery but also let either healthcare providers or patients significantly cut down costs.

Convenience

Convenience is one more characteristic of healthcare apps. Modern healthcare apps help to optimize all the related processes and save a lot of time, enable flexibility, let provide better services, improve communication between doctors and patients, and so on.

Healthcare apps have transformed healthcare service delivery. Using a corresponding app, patients can with ease arrange online consultation with a doctor, get a diagnosis, and have prescriptions sent to their pharmacy without leaving their homes.

Secure and convenient payment

Today we in terror recall standing in a long queue waiting to pay medical bills. Fortunately, it is all in the past. Modern healthcare apps have integrated secure payment gateways making bill payment a quick and hassle-free process. Patients can choose the most suitable payment mode - debit card, credit card, or eWallet. Besides, apps send notifications with a reminder in order to not let you fail to pay on time.

Easy data collection

Healthcare apps also let you easily track and collect the most various metrics for further submission to a doctor. Healthcare providers, in their turn, can collect and retrieve information from patients as well as access medical history, prescriptions, and lab results using such healthcare apps.

More accurate diagnostics

Healthcare apps also serve to ease diagnosing and reduce the number of possible errors. In which way? Providing all the necessary data, and we all know that information is power. Healthcare apps enable medical specialists to collect accurate information on patient symptoms and conditions. Besides, using healthcare apps doctors gain access to medical databases, drug references, medical calculators, lab results, and other valuable information resources. All these make a big difference in diagnostics. Having all the necessary information in place, doctors can make correct treatment decisions that decrease the number of errors and improve practice efficiency in general.

Availability and affordability

With the advent of telemedicine apps, inhabitants of rural and remote settlements heaved a sigh of relief. At last professional healthcare services have become available and affordable. People there can get a consultation and receive prescriptions digitally without having to take a long trip to a hospital.

Better medication adherence

Hospital readmissions and poor treatment outcomes are often a result of improper medication adherence. After hospital discharge, many patients hardly follow doctor's prescriptions and just plunge into daily hassles.

Still, today there are numerous m-Health apps offering such useful features as automated reminders about medication intake and refill, remaining pills tracking, educational information provision, and more to improve the chance of proper medication adherence.

Encouragement of healthy lifestyle

Nowadays, a great number of people from different corners of the world are getting concerned about making healthy lifestyle habits. Stats have shown that healthy life apps are indeed the most sought-after m-health apps now. They help users stay in shape, adhere to rigid diets, or maintain proper sleep/wake behavior.

Brand value establishment and competitive advantage

A quality and well-thought-out healthcare app can significantly optimize medical practice running, improve patient service, attract new clients, retain the existing ones, provide a competitive advantage, and open new horizons for the healthcare business development.
Types of Healthcare Apps
There is no uniform classification of healthcare apps. The thing is that there is a great variety of e-Health apps that help to perform the most varied tasks.
Globally we can differentiate healthcare apps for medical specialists, healthcare apps for the general public, i.e. patients, and healthcare apps for healthcare facilities. So let's have a look at each category.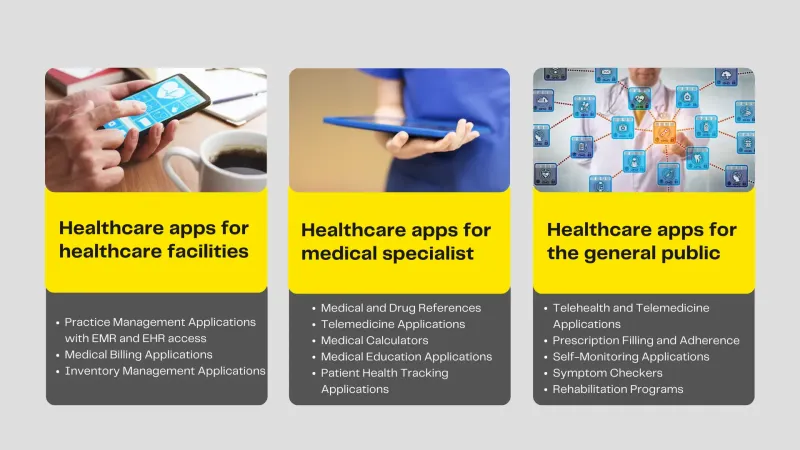 Healthcare apps for healthcare facilities:
Practice Management Applications with EMR and EHR access;

Medical Billing Applications;

Inventory Management Applications;
Healthcare apps for medical specialist:
Medical and Drug References

Telemedicine Applications

Medical Education Applications

Patient Health Tracking Applications

Remote Patient Monitoring Applications

Professional Networking Applications
Healthcare apps for the general public:
Telehealth and Telemedicine Applications

Prescription Filling and Adherence

Self-Monitoring Applications

Healthy Lifestyle and Wellness Applications

Women's Health Applications

Mental Health Applications
How to Find the Best Way to Build Your App?
Let's face the truth, development of a high-quality healthcare application requires a lot of effort, time, and money. To ensure a high ROI, it is recommended to use the best practices and approaches. Below you can find a number of steps by following which you can achieve great results in your app development.
Come up with an idea

In the beginning, it was an idea... This is gospel truth. A great idea is the first step on your way to having a winning healthcare app. Of course, there is always an opportunity to copy existing apps. But if you want to provide your users with an indeed valuable application, it is essential to offer something unique or at least present an updated and improved version of the already available apps. All in all, your main mission is to offer an application that will smooth things down for your target audience.

Carry out market research

Market research is an important part of app development. In such a way you can assess available on the market healthcare applications, define their strengths and weaknesses. Besides, it is a great way to identify the gaps that you can fill with your app. The market research also covers the target audience study. Therefore, you can get valuable information on your potential users' needs, difficulties, and preferences. All these insights help to implement your idea in a proper way and build a sought-after application.

Study state and federal regulations

All healthcare applications must comply with state regulations that usually define the security standards of patient data protection, e.g. HIPAA in the USA, GDPR in the EU, PIPEDA in Canada. It is worth getting acquainted at least with the basic norms in order to understand in which direction to move.

Choose a platform

Taking into account your target audience's preference and your financial capacity, you can opt to develop an m-Health app exclusively for one platform, build a hybrid application, or create separate native apps for both iOS and Android. So carefully consider which variant is more suitable for your business.

Prepare a list of features

Compile a list of features that you would like to implement into your application. Moreover, make it clear which features must be implemented and which ones it would be great to add as well. In other words, prioritize your features.

Define third-party systems and software to integrate with your app

Today hardly any application can exist on its own. As a rule, healthcare applications contain numerous APIs and integrate with the most various systems and software which makes them extremely helpful and convenient. So depending on the purpose of your healthcare app, make up a list of systems with which your app should be smoothly integrated.

Hire professional development and testing team

To succeed, you should entrust your app development and testing to real experts. In these terms, you have two options - to arrange an in-house IT department, which is pretty expensive and time-incentive, or hire a reliable development and testing team. A competent and skillful team with extensive domain expertise has all the required resources and is well aware of the main needs, challenges, and trends of the industry. Experience and knowledge let developers turn your idea into reality in the best possible way, while professional QA engineers ensure app quality and compliance with either technical specifications or state regulations. It is also worth noting that the earlier a QA team gets engaged, the better it is for app quality and your wallet.

Ensure close collaboration and communication

To ensure that all involved parties are on the same page it is important to establish effective and close communication. So as a product owner be ready to take part in frequent meetings and calls, as quite often the work of your product team will depend on your decisions.
A few tips to make your healthcare app stand out from the rest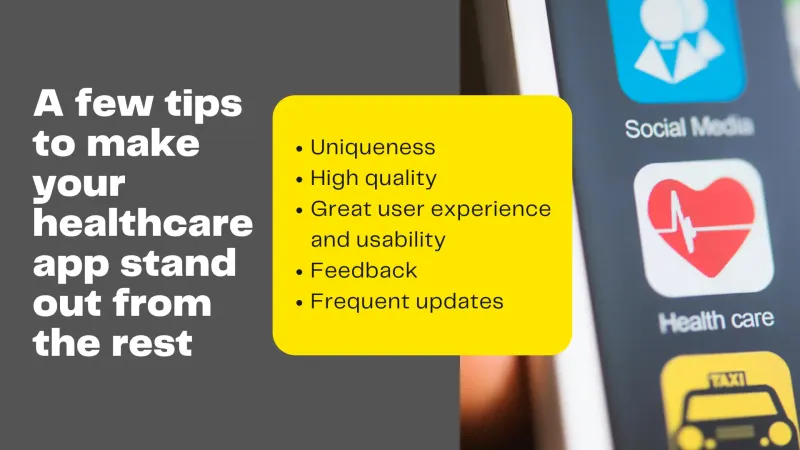 Every app is created with a thought to attract as many users as possible, and generate a high ROI and income. Still, these goals are reachable just if your e-Health app can stand out from the rest, provoke potential users' interest, and keep them engaged afterward.
In this context, we'd like to share with you some pieces of advice on how to cope with this uneasy mission. So, here we go!
Uniqueness

People like exclusiveness in everything. They just adore and highly appreciate it. Of course, it is great to keep up with trends, but it is even more important to take the lead and create something new, innovative, and unique. For this purpose, it is important to study thoroughly your target audience and reveal its needs and burning problems. After that, your main task is to offer the best possible way to solve these problems. Believe it or not, client focus, or in this case patient focus, is the best way to create a unique e-health app that is able to win people's hearts and set your app apart from its rivals.

High quality

It is sad to admit, but your competitors can copy your ideas as well as the valuable and unique features of your e-Health app. However, what is more difficult for them to duplicate is the high quality of your app. Unfortunately the market today is overloaded with e-Health apps of not satisfactory quality. Still, it provides you with a great opportunity to stand out from the crowd, offering your patient a first-class healthcare application. To reach a high level of quality it is needed to take into account the most diverse aspects including app functionality, compatibility, speed, security, recovery and backup, CPU usage, battery usage, data consumption, and many others. So comprehensive software testing is a must for a healthcare app that claims to be the winning one.

Great user experience and usability

A well-thought-out healthcare application must pay close attention to every detail. App usability and UX are an important aspect that is often underestimated. So if your team wraps their heads around UI/UX, your patients will be grateful a lot. Reduced search actions, minimum user inputs, behavioral gesturization, easy navigation, etc. make your app easy to use. In essence, UI/UX issues are covered by software testing, but we have decided to mention them separately due to their high importance. Rest assured, people will not use an app even with the most valuable and unique features if it is too intricate and takes a ton of time to figure out the way it should be used.

Feedback

Effective communication is a ticket to success. If you want to have a unique healthcare app, make sure that it has a field where app users can leave their suggestions, complaints, and comments. User feedback is a valuable information resource. There is always something that has been missed out on by the product team, and users can provide you with helpful insights and ideas. Analysis, study, and proper response to user feedback is an effective way to improve your app and get better than your competitors.

Frequent updates

Once you have hit the market with the most successful healthcare app, it is time to think about how to make it even better. To hold the leadership it is important to keep up with the latest technologies, regularly add new features, and timely fix possible postproduction bugs. So frequently update your healthcare app to let users understand that continuous improvement is one of the principles of your business.