Not too long ago, healthcare seemed to be one of those industries that developed at a pretty slow pace. However, modern technologies have turned things around and found use in diverse healthcare solutions and applications. The remarkable opportunities and striking potential of healthcare apps have encouraged their active use and consequently development.
So, currently the healthcare IT industry is vibrant and in high demand. Furthermore, it is dynamically evolving, which means that you'd better keep both eyes on the market tendencies, demands, and innovations, otherwise, there is a risk to lag behind your rivals and fail to meet your patients' expectations.
So if you are interested in healthcare application development, we offer you to take a closer look at the subject.
Prospects for the growing popularity of mobile apps in the healthcare industry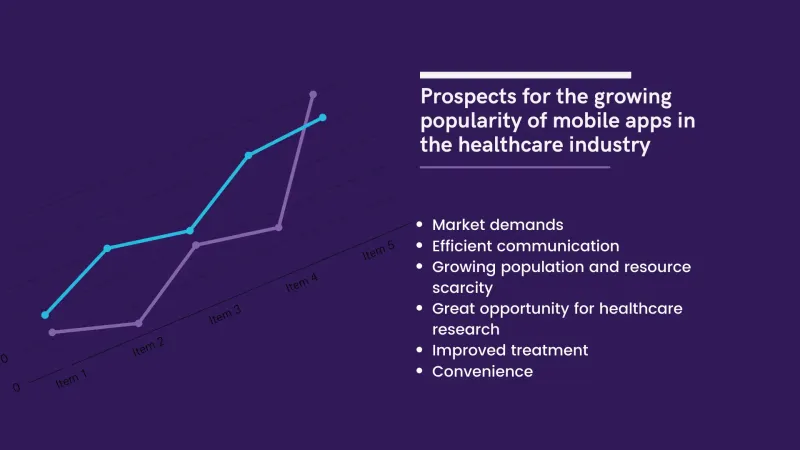 Digitalization of the healthcare industry has given rise to eHealth and mHealth which redefined the delivery of healthcare services.
mHealth apps are of particular interest as their use is spreading with lightning speed. Daresay, that it is not surprising at all as mHealth has a promising outlook.
mHealth apps have indeed good prospects and there are plenty of reasons for this:
Market demands

Today, people settle the most various tasks with the help of mobile devices, and they expect to address some non-emergency health issues using corresponding apps as well. Besides, extensive use of smartphones and current pandemic realities have encouraged demand for mHealth apps as well.

Efficient communication

mHealth apps enable efficient communication either between doctors and patients or among medical staff due to embedded video chats, chatbots, online appointment booking, and an emergency call. With all these features, it is so easy to get healthcare consultation, advice, or healthcare help in a timely manner.

Growing population and resource scarcity

It is a well-known fact that the population of the Earth is rapidly growing and there is a risk of resource scarcity, i.e. there may not be enough medical specialists in order to support the needs of all people. As a result, it makes sense to optimize healthcare service delivery with the help of diverse mHealth apps that automate and simplify different processes, improve treatment efficiency, reduce the readmission rate, let medical staff save a ton of time and effort, and enable people to proactively control their health status.

Great opportunity for healthcare research

Healthcare apps collect and store a vast amount of healthcare data. Authorized persons may use this data for further analysis and study. In such a way certain patterns, dependencies, and insights can be revealed and then used for treatment improvement.

Improved treatment

Modern mHealth apps enable accurate diagnosis and better treatment outcomes. The thing is that such apps let track vitals, collect accurate data, monitor treatment progress, improve medication adherence, etc.

Convenience

mHealth apps targeting medical staff significantly reduce their workload and boost performance, while those that target patients immensely simplify and accelerate healthcare service access. There is a great variety of mHealth apps that automate and optimize different tasks, give an opportunity to save a lot of time, enable remote health state monitoring, collect important health data, and so on. So taking into account a broad range of opportunities provided by mHealth apps, it can be safely said that the future of the healthcare industry lies with their active use.
Which types of healthcare apps are in the highest demand?
In essence, there are many types of healthcare apps that address the most varied needs. As a result, some of them are designed to be used by healthcare facilities, doctors, patients, or the public in general.
As for the healthcare facilities they are mostly focused on practice management and data management apps, medical billing apps, etc.
Doctors, in their turn, actively use medical diagnosis apps, appointment scheduling apps, medical reference apps, medical calculators, telemedicine apps, e-prescription apps, etc.
As for patients, they make extensive use of appointment booking apps, e-prescription apps, telemedicine apps, symptom trackers, chronic disease management apps, medication adherence apps, and others.
The most popular healthcare apps among the general public are mostly those related to a healthy lifestyle and wellness like workout apps, weight-loss apps, diet tracking apps, quit smoking apps, sleep trackers, diet tracking apps, etc.
Top trends of healthcare app development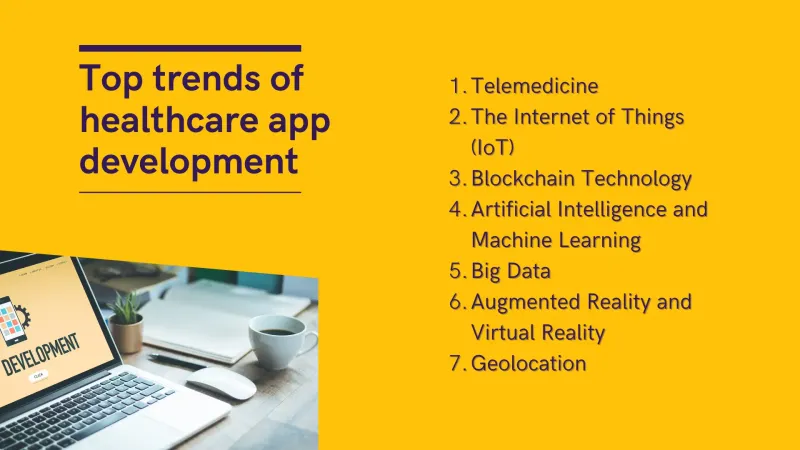 To stay relevant it is important to keep eye on the ball. So to help you, we have completed a list of the main trends of healthcare app development. Check it out.
Telemedicine

The concept of telemedicine was introduced in the early 1970s by NASA as an attempt to provide health care to astronauts aboard the International Space Station.

With the rapid development of digital telecommunications and the Internet, NASA has spun off telemedicine technology, helping medical specialists deliver professional healthcare services to remote locations. Telemedicine applications have become a real boon for rural dwellers. Still, the full potential of telemedicine has been realized with the Covid-19 outbreak followed by a lockdown. Doctors and patients have seen the true value of the technology that enables easy healthcare service access and remote treatment monitoring by means of video consultations and real-time chats. Besides, the use of telemedicine helps save time, money, and effort, reduce stress level, and restrict disease spreading.

So it is no surprise that companies actively invest in the development of this technology.

The Internet of Things (IoT)

The Internet of things can be defined as a network of devices embedded with sensors, software, and certain technologies to connect and exchange data with each other via the Internet.

IoT tools help to monitor patients' health state wherever they are. They ensure patients' adherence to medication, measure vitals, set reminders, notifications, and alerts. IoT is widely used for remote patient monitoring, glucose monitoring, heart-rate monitoring, blood pressure measurement, depression and mood monitoring, Parkinson's disease monitoring, fitness tracking, and weight control. Moreover, some IoT devices in healthcare go beyond monitoring and provide treatment, e.g. connected inhalers, ingestible sensors, connected contact lenses, robotic surgery devices, and others.

Blockchain Technology

Usually, blockchain is related to cryptocurrency and the fintech sector in general. However, this powerful technology has become widely used in healthcare app development to manage clinical trial data and electronic healthcare records.

The healthcare sector regularly deals with a vast amount of sensitive health data. Currently, data protection is one of the main problems of the healthcare industry. Healthcare facilities have to ensure secure patient data management, storage, and transfer. Despite all the efforts, every year thousands of patients suffer from data breaches. Blockchain, in its turn, is considered to be a great way to stand against cyber attacks and securely protect patient data due to its transparency, immutability, decentralization, reliability, and accuracy. The technology provides secure data sharing and storage as well as mitigates the risk of mistakes, fraud, data tampering, and data loss.

Blockchain solutions can address healthcare concerns related to clinical trials, drug traceability, supply tracking, and electronic healthcare records management.

Artificial Intelligence and Machine Learning

Artificial Intelligence and Machine Learning have been extensively leveraged in healthcare app development. The number of healthcare startups based on AI is continuously growing.

With the help of ML- and AI-based applications it is possible to examine patients in a way that was impossible before. Such applications can easily find logic in the collected data, identify patterns, and make a detailed predictive analysis.

In such a way, doctors and medical researchers can significantly improve diagnosing and treatment.

All in all, artificial intelligence and machine learning are used in caregiving and nursing, chatbots, virtual health assistants, robot-assisted surgery, medical diagnosing, practice workflow optimization, etc.

Big Data

Modern technologies let medical specialists collect vast amounts of health data. Its thorough analysis helps detect certain patterns and trends that can be transformed into valuable insights and new opportunities for the healthcare industry. Having this information in place, it is possible to identify dependencies, predict disease outbreaks, timely take preventive measures, and understand which medication is more effective and in which particular cases.

Ages ago such healthcare data analysis was not only accurate enough but also expensive, labor-intensive, and time-consuming. The adoption of Big Data in the healthcare industry has radically changed the situation. Currently, Big Data is considered to be essential for digital healthcare. With its use in healthcare solutions, health data can be stored on the cloud and can be easily retrieved by authorized users anytime and wherever they are. The only condition is the internet connection.

In these terms, Big Data is widely used in Electronic Health Record systems that provide an opportunity to efficiently manage digital documentation including medical history, lab results, treatment plans, diagnoses, etc.

Augmented Reality and Virtual Reality

Implementation of AR/VR has taken digital healthcare to the next level. These days AR/VR-powered healthcare applications are fairly popular among doctors, medical researchers, and patients. The use of VR/AR is extremely helpful when it comes to surgery issues.

Using AR-powered apps, smart glasses, and hand controllers, interns can train to perform certain surgeries with real-life experience that is enhanced due to haptic feedback. Using the same apps surgeons can prepare for some challenging surgery cases, identifying possible risks and checking different scenarios. Besides, with the help of augmented reality, it is possible to demonstrate 3D models of organs to students or patients to clearly explain to them the issue and what is going to happen during surgery.

VR is also utilized to efficiently manage pain and stress during numerous painful procedures. Patients immersed in VR in the course of medical procedures experienced abatement of pain and expressed a wish to use VR again during other painful procedures. Whereas the exact neurobiological mechanisms behind VR impact is still unclear and medical researchers investigate a complicated interrelation between cortical activity and immersive VR, it is obvious that VR has great prospects in this field.

Geolocation

It can sound trivial but that is just the point - the use of geolocation is one of the top trends in healthcare app development.

Geolocation would come in handy if you want to provide app users with an opportunity:

to find addresses and locations of hospitals, chemistry stores, and so on;

to make an emergency call while being in a need of healthcare help and having no idea about the current location;

to receive relevant information on emergencies nearby or situations that may be dangerous to health (accidents, natural disasters, etc.).
These are just a few examples, the list can be extended with many other cases of geolocation use.
Conclusion
Nowadays, the healthcare industry is rapidly developing. That is why it is important to keep yourself in the loop to understand market needs and tendencies. With information on current tendencies, you can develop a sought-after healthcare app or correspondingly update your already available app to keep pace with technology development and meet employees' and patients' expectations. So we hope that the article will help you understand in which direction you should move when it comes to healthcare and medical app development.